Evil Bob Dole Ready to Infiltrate Fakiegrind!
Our beloved overlord Evil Bob Dole is prepared to infiltrate Fakiegrind— disguised as none other than Gyrobo himself!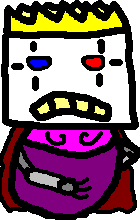 Fakiegrind will be completely off-guard... the three-pronged posthypnosis diversion will buy us enough time to eject Gyrobo from the Frozen Lower Blogosphere!
And then Maskatron, Xister, and Spirella can do with the Fakies... whatever they wish.
Bwa ha ha!
.:End Transmission:.